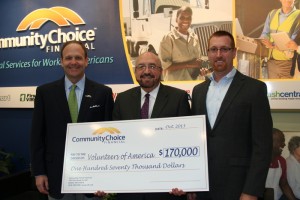 Community Choice Financial recently donated $170,000 to the 2013 Volunteers of America Helping Hands Campaign. The money raised will benefit Greater Ohio as well as 12 other Volunteers of America affiliates throughout the United States.
Volunteers of America is a non-profit organization that offers assistance to those in need to help rebuild their lives. The organization has helped at-risk youth, the elderly, the homeless, people with disabilities, and men and women recovering from addiction.
Community Choice Financial is dedicated to giving back to the community in a variety of ways. Here are just a few of the many worthy causes that we have supported.
In September 2013, the CCFI West Coast Senior Management team participated in the Ragnar Relay. The 200-mile relay race is held in 15 different locations throughout the country. Money raised from the event benefitted KEEN. Kids Enjoy Exercise Now (KEEN) is a non-profit organization that is dedicated to offering recreational opportunities for children and young adults with developmental disabilities.
CCFI's Joe Weir took part in the Leukemia and Lymphoma Society's Light the Night Walk. The LLS helps fund cancer research and provide patients with financial assistance.
CheckSmart held their first Bike Show on UT-186 in Salt Lake City. In addition to educating the public about motorcycle title loans, the event also supported Bikers Against Child Abuse (BACA). BACA assists children who are abused by offering a safe environment.
Community Choice Financial is also known for providing a variety of financial services throughout the United States at businesses such as CheckSmart, California Check Cashing Stores, and First Virginia. Some of the services offered at CCFI stores nationwide include, but are not limited to:
Check cashing
Money transfers
Payday loans
Title loans
Prepaid cards
Community Choice Financial is proud to support the Volunteers of America Helping Hands Campaign on other initiatives in Ohio and beyond.