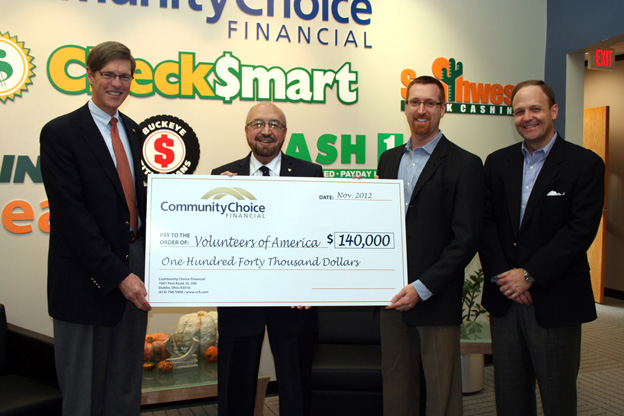 Community Choice Financial was happy to contribute $140,000 to Volunteers of America in the Greater Ohio area this past year. This money will go to benefit not just the Greater Ohio Volunteers of America but also 12 other affiliates around the nation. The Helping Hands Campaign is an effort to reach out to the needy with shelters, food pantries, job training, counseling, and more. Community Choice Financial is proud to be able to raise and give to this charitable organization that offers a huge variety of services to those in need.
Volunteers of America is a non-profit organization that operates nationwide to provide services to the underprivileged. The organization offers thousands of human services programs, like healthcare and housing. The donation from Community Choice Financial Services will go to help over 16,000 people in the Greater Ohio area and around 2 million across the country. Volunteers of America was established in 1896. The organization is faith based and runs a ministry service that focuses on providing support to vulnerable groups like at-risk youth, senior citizens, those returning from incarceration, veterans, those with disabilities, and those recovering from addictions.
Community Choice Financial is proud to give back to the communities we serve. We offer alternative financial services to people without traditional banking services. We offer convenient options like consumer loans, title loans, check cashing, money transfer, bill payment and more. We also offer additional services like auto insurance, tax preparation, and motor vehicle registration. We operate a total of 433 stores in 14 states, including Utah, Kansas, Michigan, Ohio, Virginia, and more. Community Choice Financial is based out of Dublin, Ohio.
At Community Choice Financial we are proud to contribute to Volunteers of America. The Volunteers of America organization is an invaluable asset to the communities they serve, and Community Choice is happy to give back this holiday season. If you are also interested in giving to Volunteers of America, whether it's a donation of time or money, call 1-800-899-0089 today.